Central Coast Ace Hardware with locations in Watsonville, Gilroy, Marina and Salinas is proud to add automated knife sharpening to our list of services!
Most of us have dull knives at home, but no good way to sharpen them. While there are some sharpening tools and services available today, many are manual and imprecise. This can be very intimidating to anyone looking into sharpening their knives. ReSharp is a convenient, automated system for those who don't want to replace quality knives that have lost their edge.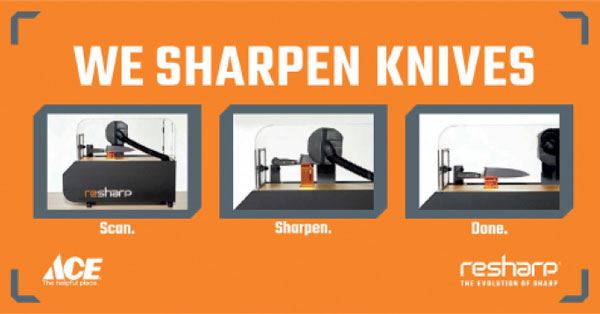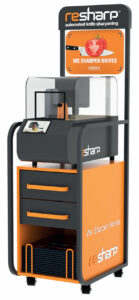 ReSharp is a new, automated tool to sharpen knives safely, professionally and perfectly every time, taking the guess work out of sharpening knives.
Sharpening is high-quality and consistent – ReSharp utilizes a patented Edge Condition Sensor to analyze and automatically recondition a double-angle micro bevel that is geometrically consistent along the edge for lasting sharpness.
ReSharp works with:
• American, European and Japanese style knives.
• Blades between 2.5 – 12 inches in length, and up to 3.5 inches tall.
ReSharp does NOT work with:
• Scalloped, Serrated or Ceramic Blades.
• Machete's, Scissors, Swords, or other single-bevel blades.
Knife Sharpening Available at an Ace Hardware Near You, in Watsonville, Gilroy, Marina and Salinas
With multiple locations on the Central Coast, we are proud to offer knife sharpening services to everyone in Watsonville, Gilroy, Marina and Salinas.
Stop by or call your local Ace for more details.