With more yard tools making the switch to battery power, you'll want to make sure you use only the best, and that's where EGO comes in. EGO Power tools are available at Ace Hardware in Gilroy, and are the #1 rated brand in terms of power, performance and durability for cordless tools.
EGO Power tools use a universal battery in all their equipment, giving you compatibility with over 60 different power tools. This ability to use all EGO batteries in all EGO tools will help save you money in the long run.

Below you'll find just some of the many EGO Power tools available at your local Ace Hardware in Gilroy. Central Coast Ace also has locations in Watsonville, Salinas and Seaside. Contact us today for availability of EGO products.
EGO Power Tools in Gilroy
EGO Power+ Select Cut LM2135SP 21 in. 56 V Battery Self-Propelled Lawn Mower Kit (Battery & Charger)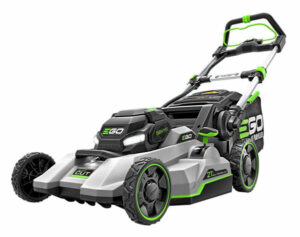 The EGO power + 21 inch select cut self-propelled mower delivers performance that exceeds the power of gas. The select cut multi-blade cutting system is equipped with three interchangeable lower blades; the mulching blade, high lift bagging blade and extended runtime blade. The mulching blade comes installed on the mower and is ideal for weekly mulching, giving you the mulching quality you would expect from a high-end gas lawn mower. The high lift bagging blade provides extra suction ideal for bagging, leaving your yard free of clippings. The extended runtime blade provides an optimal balance of cut quality and runtime for all around performance. All three blades can be used interchangeably based on your desired cut. The EGO upper blade is used in combination with the lower blade chosen to slice the grass into fine fragments; this greatly enhances cutting performance with all grass types. EGO's self-propelled touch drive technology comes from years of research and development. Touch drive technology puts complete control of the self-propelled system in the palm of your hands by using pressure to engage the system.
What's Included: 7.5Ah 56V ARC Lithium Battery with Fuel Gauge, Rapid Charger plus, Mulching Blade, High Lift Bagging Blade, Extended Run Time Blade and Upper Blade
Select Cut™ Multi-Blade System for premium cutting performance that exceeds gas
Touch Drive™ Self Propelled Technology puts complete control in the palm of your hands
Get 60 minutes of run time on single charge with the included 56V 7.5 Ah ARC Lithium™ battery
High-efficiency brushless motor
Variable Speed Self-Propel: .9 MPH – 3.1 MPH
7-position cutting height adjustments: 1.5″- 4″
3-in-1 function: mulching, bagging, side discharge
1-handed height adjustment
Folds for compact storage
Easy-access 2-bushel grass collection bag
EGO Power+ LB6504 180 mph 650 CFM 56 V Battery Handheld Leaf Blower Kit (Battery & Charger)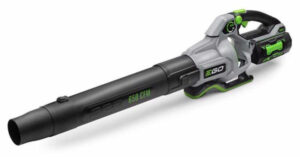 The industry's most advanced blower is here! Introducing the 650 CFM EGO POWER+ Blower. With air speeds that compare to a category 5 hurricane of 180 MPH, this blower can move wet leaves, rocks, mud, snow and more. With an all new lock on speed control dial, you can adjust your speed from 250 CFM to 500 CFM. When you are ready to move the heavy debris hit the turbo button for 650 CFM! All of this industry leading power is combined with industry leading run times; over 90 minutes of continuous run time. The high-efficiency brushless motor delivers longer run time, low vibrations and an extended motor life. Turbine fan engineering, inspired by advanced aeronautics technology, performs better than premium gas-powered models. The included flat and tapered nozzles make clearing debris in all conditions easy. This quiet, light-weight and compact blower gets the job done faster and quieter than gas! Experience Power Beyond Belief without the noise, fuss and fumes.
What's Included: 5.0Ah 56V ARC Lithium™ Battery and Charger plus Flat and Tapered Nozzles
Turbo button delivers a staggering 650 CFM
Variable-speed control dial delivers 225-500 CFM
Over 90-minutes of run time: 15-minutes on Turbo; 200 Minutes on low with included 5.0Ah Battery
High-Efficiency Brushless Motor
Weather-Resistant Construction
Flat and tapered nozzle attachments included
Ergonomic design for superb balance and user comfort
100-minute charge time when used with the recommended 5.0 Ah ARC Lithium™ battery and Power+ Standard Charger
5-Year Tool Warranty, 3-Year Battery Warranty
EGO Power+ CS1604 16 in. 56 V Battery Chainsaw Kit (Battery & Charger)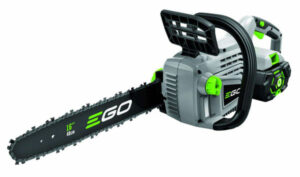 The EGO POWER+ Chain Saw truly delivers Power Beyond Belief. The 16 inch bar and chain, combined with a high-efficiency brushless motor provides effortlessly smooth cuts. The brushless motor extends both the life of the tool and the run time. The advanced 56V ARC Lithium™ battery uses industry-leading technology to deliver Power Beyond Belief and is compatible with all EGO POWER+ products. The EGO POWER+ Chain Saw delivers the performance of gas without the noise, fuss and fumes.
What's Included: 5.0Ah 56V ARC Lithium™ Battery and Charger
Speed: 6800 RPM
Chain Kickback Brake
Chain Tension Adjustment
Water-Resistant Construction
Double Guard Bar and Narrow-Kerf Sprocket Nose
Low Kickback Chain Design (complies with ANSIB175.1)
Reversible Bar
3/8 in. Low Pro Pitch
CUL Listed