Looking for a DeWalt dealer in Gilroy? Ace Hardware located on 1260 First St. Ste: B, Gilroy has you covered with a wide selection of DeWalt tools and tool sets.
We stock the latest DeWalt products, such as cordless tools utilizing FLEXVOLT® lithium ion battery technology. Power through tough jobs with 60V MAX tools and 20V/60V MAX FLEXVOLT® Batteries. 60V MAX performance delivers maximum power and superior efficiency.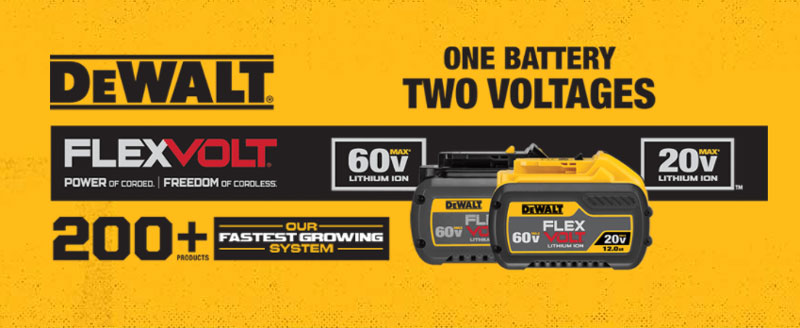 When you need to get the job done, look no further than your local Ace Hardware store. With over 900 DeWalt tools & tool sets available in-store and online, we have the right tool for your project. Contact Gilroy Ace Hardware for more details and availability of DeWalt tools and products.
DeWalt Tools at Ace Hardware in Gilroy
Our 20V Max XR Cordless Jig Saw features an efficient motor for powerful performance and extreme runtime. Precisely control blade speed up to 3,200 spm with the variable speed trigger and dial, for professional results no matter what you're cutting. 4-position orbital action lets you adjust for optimal cutting of a variety of materials. A bright LED light illuminates dim work surfaces and makes it easy to follow cut lines. The updated all-metal, lever-action keyless blade clamp is designed for quick and easy blade changes of t-shank jig saw blades. Also keyless, the shoe bevel is easy to adjust with detents at 0 deg., 15 deg., 30 deg. and a positive stop at 45 deg.. A removable shoe cover helps protect materials from scratches and an integrated dust blower helps remove dust and debris from your line of sight as you cut.
As the title says, I am slowly converting to cordless tools. I have tried many cheaper brands and found you get what you pay for, and you end up buying it again and again until you bite the bullet and buy Quality tools. Dewalt has never let me down. I have concentrated on Drills, Jig saws, circular saws etc. Never had a problem with the Dewalt tools. Batteries are expensive, but that is the whole industry. I highly recommend Dewalt cordless tools. Nothing else in my arsenal from now on. So long Festool.
This product is great, I have had it for a while and use it for cutting sinks into countertops. I have also used it lately to coop trim pieces. It is hard to complain about such a well built product. the best part is how quick and easy it is to change blades. The saw seems to have no issues making a nice clean smooth cut on some fairly hard material that would chip with a different style of blade. This definitely is a well constructed DeWalt product
I bought this jig saw a few months ago and nothing matches the accuracy and stability. This tool provides you with that. Smooth cutting with precision and very good balance. Also, what I liked is the speed of changing the cutting knife, you do not need a wrench and so on only pull the slider and put the knife. The tool is lightweight with a wonderful engineering design that you can hold without Fatigue and cutting for a long time without fatigue.
The 20V MAX XR Hammer Drill/Driver and 20V MAX Impact Driver both feature brushless motors that delivers up to 57% more runtime than brushed motors. In addition to the Hammer Drill/Driver, this kit includes 2.0Ah and 4.0Ah batteries, charger, and contractor bag for storage.
Both the drill/driver and impact driver have a brushless motor which delivers up to 57% more runtime over brushed
The impact driver has a compact, lightweight design to fit into tight spaces
The drill/driver has a high-speed transmission with 2 speed settings
Both the drill/driver and impact driver have an LED light with 20-second trigger release delay to provide increased visibility in dark or confined spaces
The impact driver has 3 speed settings for versatility and Precision Drive for added control
Contact Ace Hardware in Gilroy for availability of these DeWalt tools.
Absolutely a must have! Use these impact and drill at work and it's a complete game changer! By far the best impact and drill I've ever used!
This was my very first purchase of a dewalt combo kit in the 18 volt series over 15 yrs ago i never had one problem with them i just gave them to my son because I upgraded to the 20 volt series I'm a fan of dewalt forever great product anonymus user
We got this a while ago and it is the best set of power tools I've ever used (because my old one was a 14v nicad black and decker that smoked when it ran). Long runtime with those batteries. Fast, powerful, light, and useful. This is the best drill ever. Much better than Ryobi 18v 1+hp. Summary: Best. Drill. Ever.
The DCS391B 20V MAX 6-1/2 in. circular saw with a 6-1/2 in. carbide tipped blade operates on a powerful 5150 rpm motor with a 0 to 50-degree bevel capacity on a lightweight and durable magnesium shoe.
5150 RPM motor delivers power and speed to make the most demanding cuts with ease
High strength and lightweight magnesium shoe provides jobsite durability for long-term cut accuracy
Optimized rubber over molded comfort grip delivers optimal balance and control
0-50 bevel capacity allows for aggressive bevel cuts for a multitude of applications
6-1/2 in. carbide-tipped blade for cutting 2 times material at 90 and 45 and more cuts per charge
I'll admit, I was a bit apprehensive about buying this saw. I'm glad, though, I listened to the "other me", and made the purchase. I purchased this around December, during the "buy the batteries, get a tool" sale. I'm very glad I did. It's lightweight, powerful and true. And the battery life is surprisingly long. I've used it may times since purchasing, and rarely use my corded circular, at all. The thing I like the most, to be honest, is the weight of the saw. Even with the 6hr battery attached, it's amazingly lightweight, which, to me, is important. I've yet to cut anything that the 6 1/2" couldn't handle. As a bonus, the hubby used it, the other day. His remark about it being better than his 7 1/4" corded was all it took for me to know I had made the right choice. He wants one. I have one. Nuff said. LOL!
Bought the 6 1/2 saw about a month ago and have used it for several projects I specifically like the versatility and mobility of a small compact saw. SBRPaul
I purchased this to use for smaller jobs instead of breaking out my corded saw. After using this for a short while, I never break out my corded saw anymore. This thing is great and the battery lasts. I highly recommend this saw.
This is just a small sampling of the DeWalt tools available at your local Central Coast Ace Hardware in Gilroy. For the full catalog, stop by our Gilroy location or visit AceHardware.com